Not sure if these hints are of any help or interest but just in case.....
Having rebuilt the trailing arms (TA) I needed a way of reinstalling them on my own in a rather cramped space - my garage was put up in the thirties and not really designed for more contemporary cars. I also have arthritis in my knees and kneeling down for any period of time is tricky. Thus any work I do on the lower half of the car has to be done sitting or lying down.
I built a small trolley out of bits lying around my workshop which although crude, was very helpful in supporting the weight of the TA's whilst I was fitting the pivot bolts to secure the TAs to the chassis. The trolley holds the TA vertically - the 6" nail (see pic 1) on the trolley goes through the holes for the transverse spring bolts and the angle of the TA is set by the relative height of the two posts so that the hole for the TA pivot bolt is the same height and alignment as the bushed hole in the TA.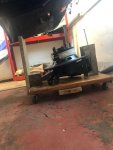 Thus to install the TA all I needed to do was to push the trolley forwards and backwards until it aligned sufficiently to put the bolt in. The trolley, plus a really good tip I read about (sorry I can't remember where but definitely not my idea) to use garden wire to pull the pivot bolt through from the far side worked very well and both sides had the bolts fitted in about 10-15 mins each (pic 2 prior to fitting shims).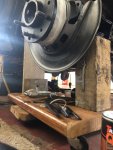 The trolley came in handy once more after I had fitted the shims, struts and dampers (but not the spring) as I had forgotten to put the washer on the pivot bolt at the bolt head end on one side. Putting the trolley back in position I was able hold the assembly all still, remove the bolt, put the washer on and then put the bolt back again without pulling it all apart. Phew!