This is one for you James,
Weather was looking rather dicey in not so sunny Cornwall on Saturday, so the meet up was not up to our usual decent turn out. I think alot of people were on holiday or had other plans, some came but in their daily wheels.
The thing to note is how good the old C4 is as a do it all Vette. They are relatively cheap to buy and run (Excluding the GS) they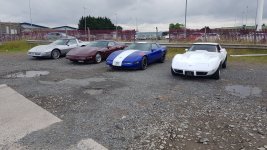 go really well 300bhp and the owners are not as precious as us C123 owners. So if I was starting out in vet ownership the C4 would be my choice.