The CCCUK East Sussex monthly meeting is on the 4th Thursday of the month, every month.
The venue is at The Halfway House pub between Lewis and Uckfield, TN22 5UG. The regular attendees gather between 19.00 - 19.30hrs and welcome new members or indeed, those we havn't seen for a while. My thanks to Ray Y who has been 'hosting' the meetings whilst I've been away for the winter months.
I look forward to meeting up again with you all and hearing the mighty rumble of those V8's as they come into the car park!
Cheers
Gary White
CCCUK Sussex rep
East Sussex meetings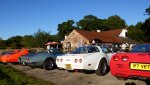 Last edited: