So after returning from the fab Hot Rods & Hills event in the Lake District, first job was to strip out interior to dry out carpets.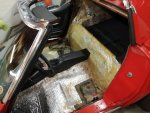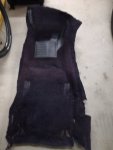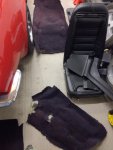 Next job was to establish where the squeaking in the rear axle area was coming from. Up on axle stands, rotating wheels but couldn't hear it.
Drove across city to mate's garage, squeaking was much worse, but got there. Back up on axle stands, me inside this time, car in drive, OMG both wheel bearings clearly shot, as both wheels moving about 2-3 inches - I was extremely lucky to get to his!
So car now in his garage, rear end stripped and awaiting new bearings. Hopefully new steering box arrives this week and can get that fitted too. Supposed to be going away next weekend for my wife's birthday and attending a car show on the Sunday, will have to wait and see.
Every cloud has a silver lining???
Of course! With car out of my garage, weather forecast good for next two days, time to clear it out and paint the floor!