Been looking for a while for a front splitter (C5R style). Found one that I really like on special from a supplier in the US for USD396.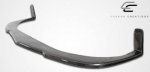 They only shipped in the US though. On a recommendation I saw elsewhere, signed up to a freight forwarder service, and placed the order. It was delivered to their facility in Florida, and everything was going well. Then I get notified that the shipping charges were a little over USD1000 and the charge was taken from my Paypal account without any prior notice or opportunity to discuss other options with them. The costs were way more than I was expecting, but its bulky (although light) so I wasn't expecting the shipping to be cheap. Ran my own quote with DHL based on the package dimensions and weight; it came out at over USD2,000! So, Ok then. Not happy, but can live with it.
But then I get a bill from DHL for customs and VAT, for GBP347. I didn't realise that VAT (20%) and customs duties (4.5% on car parts) get charged not only on the item value but also on the shipping and insurance costs if the item is worth more than GBP135. So I've now paid c.USD2,000 for a part worth a quarter of that in the US.
I've made a few fair purchases of car parts from the US in the past, and I've never really had any problems. Just going to have to treat this as an learning experience, I suppose.