Going real techie here, so tell the wife to shut up, drink your tea and stay awake !
Ever since GM began using controllers to control like your engines, the time they start designing the next Gen Corvette to when it hits the streets takes years
That means whatever the controller will be used is already obsolete as to its design
In the case of the controllers they have a coprocessor CPU (computer) that is too slow to process in real-time and that can be an issue when the engine is at
high RPMs and loads.
This leads up to the fuel injection system, where the engine has 8 fuel injectors.
GM chooses sizes that due to the controller being slow to smaller injector flow sizes as the controller (PCM) can command the injectors ON longer so that it can go do other things as CPU speed allows
There is some madness to this, so hang on
I will use CCCUK member Mark's 1999 Corvette
Let's add another part, injector design has a limit rule as they do not want the PCM to command a fuel injector beyond 80% duty cycle of its ability to spray a correct fuel mist pattern
Commanding longer and the spray into cylinders is not a very good burn charge
So let's assume Mark wants to haul ass in his C5 on a hot, humid day at sea level ( where more fuel is needed than at higher elevations)
and engine starts having knock/ping
IF Mark was using a OBD-II scanner that was recording and then later replayed and analyzed, he would find the fuel injector duty cycle was like in the 90s
and that is because the injectors GM selected are not large enough for higher engine loads ( some is GM knows many Corvette owners are waxers and never
go fast
As an example, I show here some recorded OBD data analyzed :
For Marks drive with stock fuel injectors which are rated as 26 lbs/hr IF holding to the 80% duty cycle rule, those injectors can
only support 330 flywheel HP
which is too small for even the stock LS1 engine
So in Mark's case it is not about gaining performance but instead of losing it due to engine knock produced due to his injectors going to 100% DC, which causes the PCM to yank timing out, that reduces torque, which in turn kills off HP

So Mark could do is replace the fuel injectors from the 26 lbs/hr to lets say
36 lb/hr
With those installed and leaving the stock GM tune in the PCM now see how much the engine can produce :
Now look at what those fuel injectors could allow the engine to produce and be below the 80% DC -
461 FWHP !

It would take only about 1 hour for Mark change injectors but now for the kicker
IF buying 36 lb/hr injectors for a set of 8 would be somewhere around $500 plus as example
Say picking
40 lb/hr from one vendor, $520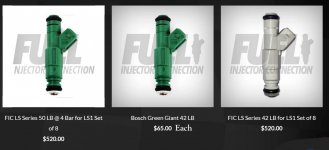 NOW do it my way
There are business that you send them your stock injectors,
They
1 Cleans them
2. Change the screen filter
3 Put new O-rings on
4. You tell them you want them reflowed from the stock 26 lb/hr to 36 lb/hr ( at 4 bar MAP at 58 PSI fuel rail pressure, what Mark's engine does) and
5. Flow match them so all 8 flow the exact same flow in cc's
6. Tests them when done to what flow they did and the results will look like this set I sent vendor and told them to reflow them to 55 lb/hr (570 cc)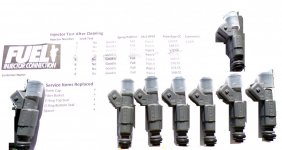 Your way cost $520 plus
My way : Sending them your injectors to do above :
Cost $25 each = $200
Nice saving and there would be techie reason why also to use yours,
but I assume most of you are sound asleep by now to read more


Let's Go a Racing, Boys ! :=)