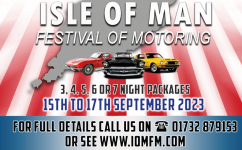 This annual event takes place on the Isle of Man and for 2023 it will be over the weekend of 15/17 September 2023.
The emphasis will be on American vehicles and the CCCUK has been invited to attend as the "Marque of Honour" (dependent on numbers).
As a Club, we expect to be offered:
Exclusive Closed Road Runs on the Sloc Mountain Road
Entry to the IOM Motor Museum & Jurby Transport Museum
Our own dedicated Club Space at the Car Display in Douglas
A Police Escorted Motorcade from the TT Grandstand to Ramsey on the TT Circuit
Exclusive Closed Road Run on the TT Mountain Road led by the CCCUK and MOCGB
Afternoon Tea at the famous Creg-Ny-Baa
TT Grandstand Pit Lane Photoshoot
In addition there are the following options:
Exclusive Track laps on the Jurby Circuit
Gala Dinner on Sunday Night
There is a choice of hotels and packages ranging from 3 to 6 nights starting from as little as £299.00 Per Person.
The packages include:
Return Ferry Crossing from Liverpool or Heysham to the IOM
A Choice of Hotel Accommodation
Detailed Roadbook featuring Travel Documentation & Rally Plate
It's a long way off so really a heads up at this stage to guage interest. As a TT fan, I have been to the Island many times. It's a wonderful place to visit and what better way to see it than as part of this event.