Oliver Gavin On His 10 Years Racing With Corvette At Le Mans
Artical from DailySportscar.com by
Martin Little
16 June 2018, 7:40 AM
It's fair to say Oliver Gavin has done a few laps of Le Mans.
With five class wins under his belt for GM as a factory driver for Corvette Racing (becoming a firm fan favourite on both sides of the Atlantic in the process), the affable British driver is well placed to reflect on the past 15 years with the team and its unequalled record of consecutive Le Mans campaigns.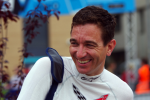 He caught up with DSC yesterday, to
"Things have changed a lot. When I first came here I was driving with Ron and Jonny and the pit set-up we had downstairs was a lot more basic, it's fair to say it was not hugely sophisticated. The team has grown massively since then, the technology has grown and with that so has our working environment. The way the team goes about the event has also improved a huge amount; every year we've been here we are just learning, learning, learning, whether we are winning or not, and that just makes our programme stronger.
"Then you look at the driver side of things. When I first arrived it was me with Jonny and Andy, then it was Olivier Beretta and Jan, then the next package and so on… now we're on to Tommy and Marcel; the wealth of talent I've had to drive with has been amazing really.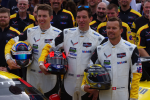 "You learn from everyone and try to gather as much knowledge as possible, whether that's the way someone drives the car or how they deal with the pressure… or maybe not dealing with the pressure. This race really points out the strengths and weaknesses of lots of different characters."
So what does Corvette Racing look for on a driver's resume to be considered for this unique team?
Well, with Tommy and I they put us together because they looked at our driving styles, but also our physical size. It's the same with Antonio and Jan. So that was one of the reasons why they considered pairing us, but experience here is absolutely vital.
"It's almost the very first thing Ben Johnson and Gary Pratt look at; what have they done, are they any good around here? There's Daytona and Sebring but to have Le Mans experience is so important. Laps around this circuit are long and hard fought, it's a hard week to deal with and a circuit like no other. "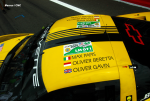 How does the team deal with the psychology of situations where other cars are clearly quicker and a challenge to the hard investment made in developing the car to its current level of performance?
"You just draw on the experience of all those years. And you know that yes, on the Wednesday and the Thursday it's a nice warm fuzzy feeling if you're P1, but also know nobody remembers Le Mans for that or who was quickest in first practice. People remember who is on that top step come 3 o'clock on Sunday afternoon. And that is always the focus of this programme.
"I remember all the years we've come here we've very rarely had the fastest car. One particular year we were really off the pace, but we've always managed those situations and had drivers who are able to think and work with what's put in front of them.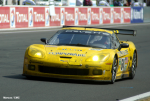 "For me, that's where Doug, Gary, Ben and everyone else managing the team have excelled over the years; not worrying about one-off lap times and immediate issues, but being able to look at the big picture: where do we need to go, where do we need to be and what gets us the best result come 3 o'clock on Sunday. That's the only thing to remember. For any manufacturer you only want that one thing, to stand on the top step."
So at what point might the decision be made to turn on the pressure and react?
"I'm not saying I'm not going to push or not drive as hard as I can, but we have to know that there has to be a certain amount of tolerance in there.
"We can't be absolutely destroying the car and caning it all out, there has to be that certain amount of respect: driving on the limit but maximising every element of it knowing when to do that driver change, that brake change… what is the best way to maximise the efficiency of all those components. And things like the braking point at the entry to the pits, who is the best driver for the job at a given time and what can he do… all those many things. But we're here with a solid car, a great driver line up and we have a strategy, and we have a goal."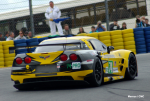 How much more can be found with the C7.R now?
"This is the fastest we've ever been here. Our times last night were the quickest we've recorded. But Tommy, Antonio and Jan were all saying there is still a bit more to find. How much, we're not sure. Maybe tidy the car up a little bit and make it a little more comfortable to drive, it all contributes.
"So are we fastest? No, we're not. But we're certainly there.
"And we know that to win this race you need to have a great team, a great strategy and a great mindset … and also some luck.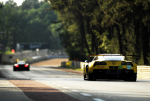 Last edited: