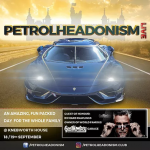 Petrolheadonism Live is being organised by Ciro Ciampi, owner of the hotel where the Nationals were held recently. The CCCUK will be allocated a display area at the event.
The weekend promises over 1,000 cars on display from Supercars to Classics, Americana to the Highly Modified and the 'Interesting'. Petrolheadonism Live will host a £50m+ Hypercar Enclosure in the shadows of Knebworth House.
Over 50 car clubs are set to attend the event, including the CCCUK. You will see an incredible array of classics and modern classics to rival any automotive event.
LOCATION
: Knebworth House, Stevenage, Herts, SG1 2AX
DATE
: Saturday 18th & Sunday 19th September
SHOW TIMES
: 8.30am to 10.30am for Show Cars. Public admittance from 11.00am
TICKETS
can be purchased online at
PETROLHEADONISM LIVE | Petrolheadonism2
Simply follow the link for "Show Car Tickets" which are available for either each day or for the weekend. Driver and all passengers are included in the price. A weekend ticket costs around £29.89 with the Car Club discount.
When you checkout your purchase you will be asked to select your car club. Please make sure you select "Classic Corvette Owners Club UK" which will ensure that the CCCUK is allocated sufficient space, otherwise you may not be able to park with the Club.
It would help with our planning if any member attending could let me know by emailing
chairman@corvetteclub.org.uk
I hope to see you there.