The last St. Louis, Missouri Corvette was built on July 31, 1981. Want to read about it? From the Jan/Feb 1982 issue of Corvette Fever magazine...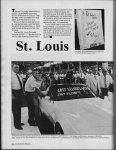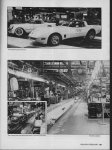 I toured the old St. Louis plant in 1978, and was astonished at how dark and dingy it was. The amount of labour-intensive hand-lay-up of body panels was hard to believe. Oh, and that hand-written sign at the top of page one has a minor error on it. The 1953 production (300 cars) was NOT built in St. Louis. They were pretty much hand-built in a truck plant in Flint, Michigan. Production then moved to St. Louis for the 1954 model year.
As you all know, Bowling Green, Kentucky picked up the torch from St. Louis, and Corvettes continue to be built there today. That much more detailed story can be next,
if
anyone wants to see it.
This photo, from the St. Louis plant, was during engine drop on to the chassis.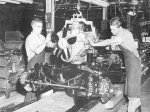 And here they are bringing in brand new 1966 Corvette bodies from Michigan, covered in snow. Yes, from 1964 to 1967, Corvette bodies were actually built at two locations – half at the St. Louis factory and half under contract with GM-supplier A.O. Smith in Ionia, Michigan. Later, all C3 bodies were built in St. Louis...until Bowling Green became part of the story.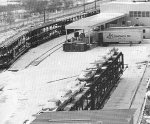 Last edited: