FOR SALE - Four C6 Gumby Chrome Wheels with C6 Centre Caps
These wheels are being offered for sale by the widow of one of our Members who unfortunately passed away recently.
He purchased these wheels barely used from a C6 owner in Germany who had briefly fitted them to his C6. Our Member did not fit them so they are presented in good condition apart from some kerbing on one wheel (see photograph).
Sizes are two at 18 x 8.5 and two at 19 x 10
The wheels have the following markings: 9CVRE:09C4:N and 9CVFR:09H6:N
They would have cost over £1,500 new but are offered for a very reasonable £400 as they need to go.
Buyer to collect in person from the Gloucester area or arrange a Courier to collect. The wheels are boxed.
In view of the circumstances, if you are interested please contact me in the first instance by email to
membership@corvetteclub.org.uk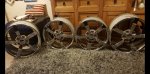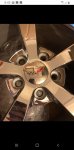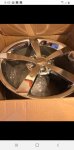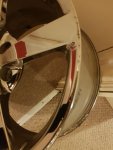 Last edited: