Shall we get this C1 section of the forum going?
As a very long-time C2 owner, I can appreciate the early cars as essential to how we got here. If you've ever chuckled at the styling of an early C1 Corvette, here's a gentle reminder of what a regular Chevrolet looked like in that era.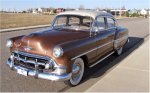 ​
As the decades fly by, it's not surprising that the importance of the C1 Corvette fades. Was it a deft-handling, high-performance car? Certainly not in the beginning. Putt-putting along with a straight-6 engine, mated to a Powerglide 2-speed automatic transmission, on what was basically a full-size Chevy list of suspension components, the very early cars (1953-54) were not sports cars; they were essentially boulevard cruisers, and sales reflected that truth. 1953 - 300 (many given away to celebrities just to get them out there); 1954 - 3,640 (a 12-fold increase, but still too few).
However, Chevrolet gave Zora Arkus-Duntov the reins, as Chief Engineer, and things evolved rather quickly. By 1955, along came the Chevy small block 265 c.i. V8 engine and the substitution of the 3-speed manual as the included base transmission in 1955; suddenly making the automatic transmission an optional choice. In 1957, the V8 was bumped up to 283 c.i. and, for the first time, fuel injection and a 4-speed manual transmission were available as options. Things were moving along nicely now. Had Duntov not worked his magic, not just in the 1950s, but throughout the '60s and early '70s, none of the C3 - C7 cars would exist. The public had rejected the very early car as anything 'but' a sports car. That all began to change once Duntov's influence could be implemented.
And with that introduction...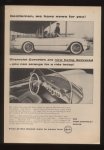 An early mock-up made of mahogany.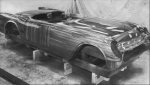 This 1954 was caught in Quito Ecuador in 1980. How it ended up there...who knows?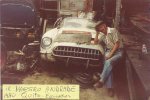 Magazine ad.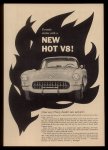 Yes, Duntov's influence was being felt. Here's the 1957 Corvette SS mule.
Duntov standing inside the rail, 2nd from right.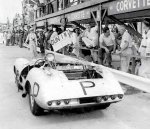 The master himself at the wheel.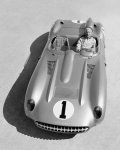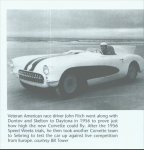 ​
If this audience has any interest, I have plenty more where this came from.
Last edited: