Advertised at my son's garage :
Affordable Used Cars Wirral - SM Motors
lots of pictures.
Actually 2002 (51 reg) manufacture first reg in UK 2003. Dates wrong on garage advert as the host does not understand imported cars.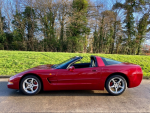 Reg plate negotiable.
51700 miles
I have owned the car for four and a half years but am selling as I need the money to buy a campervan.
Either contact me or Richard at the garage address above.
Last edited: