My car arrived with some damage to the fibre glass front quarters and some serious rust in the support structures behind them. A full glass fibre repair was required to give the quarter some strength and enable new outer extension brackets to be refitted.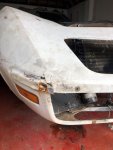 In order to ensure that the correct profile was maintained behind the face trim in the repaired area I made a template ....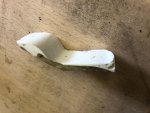 by putting a layer of cling film on a 'good' part of the body profile behind the chrome face trim and then placing enough plastic padding on the cling film to cover the complete profile and give me something to hold on to. The cling film was taped up to stop it moving whilst the pug went off.
Once cured the hardened plastic padding was easily removed from the cling film - which makes an excellent release agent. This template can then be used to check the profile all the way along the repaired section to make sure it matched correctly.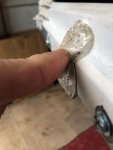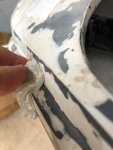 resulting in the picture below .... which looks a bit rough at the moment but should look ok after final preparation and paint later (much, much later) in the build.