Chevrolet
's new electric car is so quick that it can fly. At least the front of it can. The
eCOPO Camaro Concept
is a battery-powered drag racing special with 700 hp and 600 lb-ft of torque.
Its Borg Warner twin-motor pack was designed to be swapped in for a conventional engine and features the same bellhousing pattern as Chevy's LS line of V8s, so it can bolt onto any transmission that works with one, including the standard COPO Camaro's 3-speed.
The 800-volt system draws its power from four 175-pound battery packs mounted in the rear of the car to help add traction, and the eCOPO appears to have plenty of it.
At a recent NHRA test session the car, prepped by Hancock and Lane Racing, pulled a wheelie off the line on its way to a 9.837-second quarter-mile at 134.07 mph with only roar coming from the crowd.
Chevy doesn't yet have plans to sell a turnkey eCOPO, but it is considering offering the electric setup as a crate motor someday.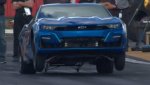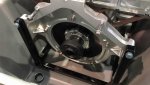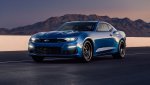 Chevy's electric Camaro can do wheelies