I put a few more bits back on the car today and came up with another couple of questions.
1) does anyone know what this hole is for? It goes through the firewall just above where the throttle pedal is bolted on and just below the grommet where the vacuum hoses go through the firewall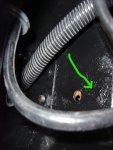 2) When I got the car it had air con fitted, but as there was no gas in it and I think there is a hole in the evaporator, I'm not going to replace it at the moment.
Looking in my AIM it shows 3 belts for the setup I've got now. My question is how are you supposed to tension the Track 2 belt? Am I missing some sort of tensioner?