I'm removing the rad from my '80 C3. Reason?....leak from the base of the 'filler' tank(Passenger side). The aim is to get it to a local rad specialist to see if it can be welded/re-cored. It sounds like the most cost effective way and knowing that it will fit when reinstalled.
I have disconnected the shroud. 1 piece item, 2 bolts at top and 2 'tongues' at bottom. It will lift free but not come out. Fan and clutch and smog removed and there seems a good gap to lift the rad out when that's freed from the mounts and tranny cooling pipes. Top and bottom hoses are removed from the rad and look in OK condition.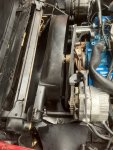 .
Q1. Is there enough room to lift the rad out with the shroud moved rearwards and remove the shroud after? Lift the rad and the shroud out together? Would be nice to inspect/re-rustproof the cross member and metal under he rad/shroud.
I'm concerned about removing the tranny cooling lines with the rad in situ. It looks like the rad has been removed before as the pipe lines have rubber hose joiners/clips (or was this standard?)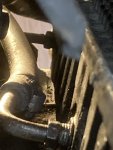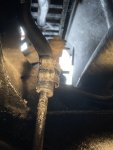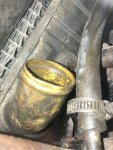 I am tempted to cut through the hose connections with tin-shears to free the lines and when the rad and shroud are removed and the rad is on the workbench, remove the remaining metalwork piping and clean up/replace all the rubber hose/clips! Likewise the remaining tranny cooling line pipework on the car.
Q2. Is this a good idea/optional way of doing things? Will I and the car get covered in transmission fluid??
Q3.The rad mountings themselves are easy to remove. (I think!). Just the top 2 and the freed rad should lift straight up now released. I will buy new rad mount cushions when I have confirmed sizing.
Have I missed anything?....alternative courses of action?...Thanks for inputs......................