1963 - This is when Zora Arkus-Duntov and the rest of the Corvette engineering team finally got their chance to get serious about racing. Where did it take us? Well, all the way to the today's C7.R, that's where. If you don't know, understand and appreciate the foundations that this Corvette house was built on, do you really know Corvetting? Be proud of your marque. It was built on a mother lode of history and the original Grand Sports were a massive part of it..
The Original Grand Sport Is the Great Corvette Racer That Never Was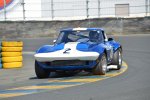 When you hear 'Grand Sport' do you think of a 1996 C4 Grand Sport? Or perhaps a C7 Grand Sport springs to mind. Sure, but they were built on the legacy of these amazing cars. No A/C...are we men or are we mice?; no sound system...unless you count that amazing exhaust sound; no power steering...that's why God gave us arms; no automatic transmission...that's why God gave us left feet; no heater...who's a wimp?; not even any cup-holders...really?
Click here -
Untold Stories of the 1963 Chevrolet Corvette Grand Sport #003