Relax and enjoy some corvette banter at the East Sussex monthly meeting at The Halfway House, Rose Hill, Isfield, TN22 5UG from 19.15 onwards.
We meet here on the 4th Thursday of the month, every month.
Hopefully, the weather will be much warmer and we can sit out in the lovely gardens and admire the floral displays. Look out for the
blooming good (power) plants in the car park too! Be nice to see you and your
car-
nation there as well.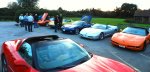 Regards
Gary White
CCCUK Sussex Rep
07973 330046