Having looked at my personal 1965 vert for nearly 30 years, I'm toying with the idea of changing its appearance somewhat.
I fancy a 1967 big block hood, so if anybody has one let me know.
Will possibly change the interior color from bright blue to white so I can have a white stinger on the hood to match it, and may change the soft top from black to white. Not that it ever gets put up, just for difference.
I've also been thinking of adding another set of tail lights aka California six tail lights fad. I must admit I'm getting to like that fad.
Just getting a bit tired of seeing the same old thing sitting about.
Pic below is of a vert done in blue, possibly in Australia now as it's RHD.
The middle tail lights appear not to be stock items, even as back up lights. I think they are a home made item, as the back up lense has a red outer reflector ring, which factory lenses do not have.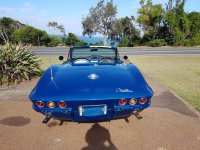 Last edited: