I thought I'd start a thread of various updates on my 72 small block starting this week with .....
Engine removal, achieved with a friend's help.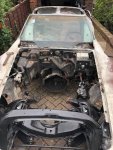 Gearbox (manual) also out and awaiting inspection Cross-member being repainted in a somewhat messy corner of the workshop. Having said that it doesn't get any tidier in the rest of it.