After 2 1/2 months of waiting, finally collected the car from Southampton docks on Friday.

Only to find when we returned home that Jeeves the Butler had gone out for the afternoon so I had to park the car myself.

It was worth the wait, just need to get it converted and registered now.

View attachment 3484
Yes its a pain when that happens, here's my grubby '87 waiting for Presidential permission to enter the driveway of the other White House..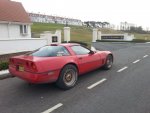 Last edited: