Yes it scary how rebuilds can grow and grow. I never thought I would have to do surgery at the level of detail here....
Firstly the JB weld repair to the cowl mount turret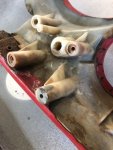 And then dismantling the speedo/odometer mechanism which had completely seized up. This was due to (a) the rotor bush seizing - now fixed and rotating freely with a little help from some Plus Gas - and (b) the little idler wheel attached to the side had seized too. This also now fixed. However the seizure of the idler wheel resulted in the plastic gear shaft getting a little chewed up and not engaging properly with the (not shown here) vertical odometer shaft. A new plastic gear shaft will have to be fitted.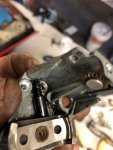 The drum assembly also had to be cleaned up. The drum is shown after clean up and the casing before (cleaning in progress) - they had corroded together to become one solid unit.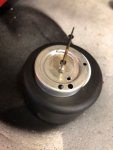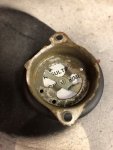 Other than these items it all worked perfectly...
On the good news front I repainted the cowls inners in matt black as these surfaces were starting to show the chrome beneath (seen here before the masking tape was removed).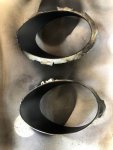 .... and the housings are going back together. The lenses came up really nicely after some polish with T-Cut.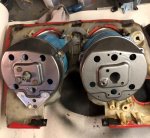 This will now be parked until I can locate a new odometer drive gear and (hopefully) put it all back together.