A little progress on the seat base...
Having braced the frame to remove the bend in the rear section ....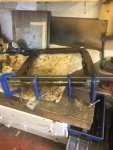 I've been able to complete ... the front...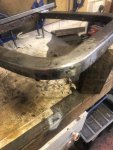 .... rear left hand side ....
and rear frame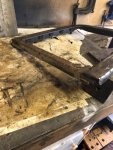 Leaving the small reinforcement plates on each side and the big one along the rear section to do this week. Just noticed from the picture that I haven't removed that broken back rest support bolt in the rear section yet so that needs to be done too. It's interesting that stainless steel bolts (I think these are stainless) don't necessarily behave themselves under wet conditions either. In fact I think this might be more difficult to remove than a mild steel one - it's in an awkward place too. That' probably why I have sub-consciously forgotten it.
Fortunately the back rest is surface rust only so that just needs some wire brushing, preparation and then paint before being put back together.